This coin is a very good example for the fantastic journeys of ancient coins.
First it was minted in Alexandria / Egypt, presumably under Ptolemy V. Epiphanes 205-180 BC. Some years after it came to Rome, where it was overstruck (Crawford 120/4 ?; 206-195 BC).
If the eagle on the reverse side would still be fully visible, it would be standing on its head.
The part of the wing which is still visible, is the lower right part of the wing. (see the Example of a Coin of Ptolemy and the overlay). The 'lines' left of the stem are the foot of the eagle and the R of ROMA was the head of the eagle.

This map shows the extent of the Roman Republic around 200BC. You can see that the Republic consisted only of Italy and parts of Spain. So this coin is an example of early trade between the Romans and the Egyptian - most probable the coin came to Rome by a merchant.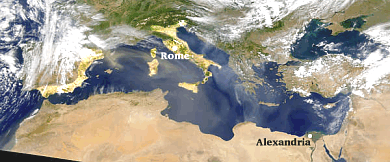 The Roman Empire in 200 BC (highlighted areas).